Dolly and Dotty create dresses inspired by the style of the 50's and 60's. From rockabilly girls to pin-ups, swing dancers to Audrey Hepburn, Dolly and Dotty look back with fondness and channel that elegance through their collections. The brand began when the brand founders moved to Brighton and fell in love with the vibrant spirit of the city. While living in the midst of vintage shops and independent boutiques, they were inspired to customise and design their own vintage pieces.
Their collections are full of contemporary adaptations of timeless style – think halter necks, full circle skirts and lots of polka dots! The brand also uses four key prints throughout their designs, which feature significantly in the current collection. The first is the classic polka dot print, which the designers use playfully in flattering flirty styles, to create timeless pin up girl looks. Other main prints include retro gingham and checks, a mandatory staple for every rockabilly girl's wardrobe. The final core print in the collection is beautiful vintage inspired floral designs.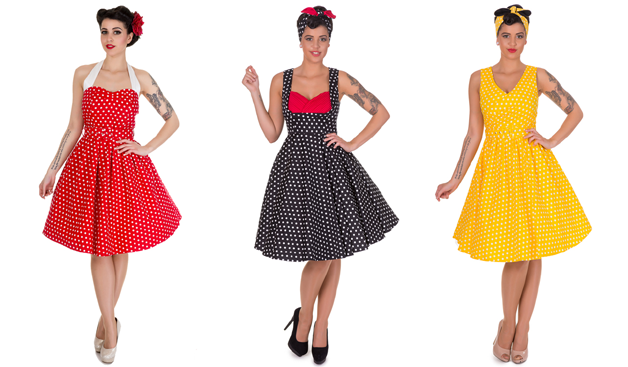 Most of Dolly and Dotty's collections are adapted from genuine vintage styles, altered to flatter and fit contemporary body shapes - all of their dresses are designed in house by their team, and they cater to a range of sizes.. The modern twists they add to all their collections mean their designs appeal to both dedicated vintage lovers and trend seekers alike.
This isn't just occasion wear – find day dresses and casuals alongside full skirts and cocktail numbers too. We love that their dresses have a name – we're really into the Penny dress, and it comes in all the colours of the rainbow. Dolly and Dotty are now available internationally, and they'll be joining us at LondonEdge for the first time this September, don't miss them!