We are thrilled to welcome Sera Ulger LDN and their print-mad designs to the Edge:Edit this season!
A bit about the Edge:Edit – this is a brand spanking new area of the show that we are developing to introduce brands that we think are fresh and exciting – those new to the tradeshow circuit, brands that have a strong digital presence, new brands to the lifestyle fashion scene… If you are interested in being a part of this area in February please get in touch!
Sera Ulger LDN (SULDN) is a print dedicated fashion label living with their finger on the pulse. Set up by print designer Sera Ulger, the brand comes from the heart of edgy London fashion, Dalston and specialises in vibrant, loud, bright womenswear.
From their Ulger Lab studio the brand create eye-popping hand–painted designs, steeped in the nostalgic 90's London culture they grew up with. Girl Power shines through these cuts and finishes, brining a unique attitude for the sassy 90's girl in us all!
The collections span feminine and unisex garments, including everything from beanies to jumpsuits, maxi's to boyfriend jumpers. These garments are all hand painted or illustrated in-house and made in the UK. The brand often work with British factories often with some of those located in the heart of London's East End.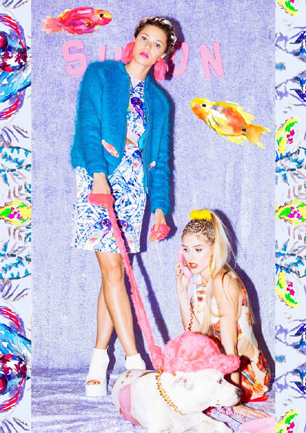 The team at SULDN create their unique styles using digital prints on a variety of jerseys, including satins, scubas, poly lycra and more from their fabric mill based in London. This is important to the design process, as they say, "our close relationship with our mills and factory's gives us the space to be creative and develop original styles into our seasonal collections." Real homegrown talent!
We're excited to have Sera Ulger LDN bring their vibrant East London vibe to the show this season, find them upstairs in the gallery Edge:Edit space.