the ultimate creative & commercial fashion trade show
Want to expand your business and reach an untapped market in the USA? Then our new show is just for you!
Be part of the planets only exclusive sub-culture and youth-culture fashion trade show.​
LondonEdge is a must visit event. Find out why buyers from all over the world consistently return year after year.
Spread across two days, LondonEdge has a loaded schedule of cat-walk shows and entertainment.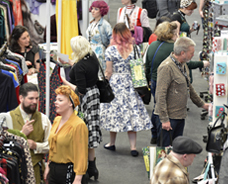 AUTHENTIC
LIFESTYLE
FASHION
TRADE SHOWs
Las Vegas 14 - 15 August 2018
London 2 - 3 September 2018
London based and 'made in England' Heba Clothing, one of our Makers + Designers, was created by its namesake, graduate from the London College of Fashion, Heba Elemara. Celebrating individuality, quirkiness and having fun with fashion, this brand creates on trend and comfortable clothing for the young fashionista! Inspired by 90s fashion, streetwear and keeping it casual, Heba clothing is unique, specialised and made with love, care and attention. A brand that believes in keeping it 'real' for the youthful market, Heba has a signature look that is echoed throughout the collection. Each garment is stand-out, edgy and guaranteed to draw the eye.Appreciated for their core belief in edgy fashion and keeping it British, Heba's ethos and ambition for the future set them apart as a must-visit this season. Visit Heba Clothing in the London Makers & Designers area in September.​
Rouge & Rogue Dark, mysterious and enchanting, Rouge & Rogue's line of eyelashes and accessories are a unique experience. From the sleek black packaging, to the wax seal, to the beautiful product inside, the wearer will be transported into a mystical, ethereal world. Inspired by the dichotomy of light & dark, elements of space and a bit of fantasy thrown in for good measure, each product in the line if reflective of the brand's incredible ethos. Creating lashes for people with graphic style, the brand just love an icon. Anyone who has a bit of edge to their look is where it's at for this brand. So, they would die to see Lady Gaga, Rihanna, or Lupita Nyong'o wearing their products. But for Rouge & Rogue, overall 'life is an adventure' and you never know what's just around the corner. They'd love to one day hit the big time and be stocked in stores and online throughout the world and expand into cosmetics too. This brand has real ambition and the drive to achieve it too, so watch this space. Discover mysterious beauty on booth 426 in the Makers & Designers area of the Las Vegas show. ​
Sea Dragon Studio – The Skin You Were Meant to Dance InSea Dragon Studio is a holographic festival clothing line with accessories for both men & women. Born on the dance floors of Australia's favourite music festivals and now worn at gatherings around the world. Founded by Jesseca Diskobaal, she proudly extols that every piece is designed to make you look as good as you feel and aim to embrace everyone's inner disco ball letting it shine bright! There's certainly no such thing as a muted tone in the Sea Dragon Studio colour palette and the collection is lovingly handmade from a four-way stretch, breathable, wearable Lycra. The pieces on offer range from full bodysuits to two-piece outfits and accessories. Throw on your dancing shoes. Sea Dragon Studio are waiting for you on Booth 301 at LondonEdge Las Vegas.​
gallery
experience londonedge on instagram