the ultimate creative & commercial fashion trade show
LondonEdge Las Vegas was buzzing and a great success for all who attended, with high orders reported.
Be part of the planets only exclusive sub-culture and youth-culture fashion trade show.​
LondonEdge is a must visit event. Find out why buyers from all over the world consistently return year after year.
Spread across two days, LondonEdge has a loaded schedule of cat-walk shows and entertainment.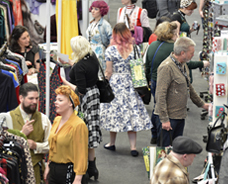 AUTHENTIC
LIFESTYLE
FASHION
TRADE SHOWs
London 27 - 28 january 2019
Las vegas 5 - 6 february 2019
Based in New York City Counts and Courtesans is a premiere purveyor of Goth, Punk, Emo, Lolita & Victoriana Clothing.



They scour the world to locate the best Designers, Collections and Brands to bring to customers under the C+C Umbrella. Counts and Courtesans is proud to announce they are an Official Supplier for PUNK RAVE Clothing.



Based in Europe PUNK RAVE Designs and Develops the highest quality Goth, Punk and Victoriana Clothing and Accessories. You can visit Counts and Courtesans at the London Edge Las Vegas show Booth 418 to see their exquisite collection. Alternatively visit us at www.LondonEdgeNow/CountsandCourtesans.



www.CountsandCourtesans.com
MW@CountsandCourtesans.com

Michael 347-891-0515
Likeitlots, the official partner of eKomi The Feedback Company in UK, is excited to announce its presence at London Edge in January 2019! To buy or not to buy? These days customer reviews are a crucial component of a purchase decision. With 85% of consumers trusting online reviews as much as a recommendation from a friend, brands should not neglect the power of social proof. eKomi helps its clients to collect, manage and market authentic customer feedback both online and offline! We believe that by giving a voice to your customers you may not only gather actionable business insights, but also unlock the silent satisfied majority, which simply loves your product but never thought of saying it out loud. By leaving a review your customers become your advocates and start promoting your business. Furthermore, eKomi is an official Google syndication partner and one of a few companies in the world that is allowed to activate Seller Ratings (stars) on Google! These little shiny stars may seem insignificant, but they may increase your Ad CTR by 17%! Come to the Likeitlots & eKomi booth at London Edge this weekend to learn more about how you can leverage the power of social proof to grow your business.​
With a love for all things cute and quirky, Retrolicious is dedicated to bringing their customers a sustainable product with a fun retro-twist. Made right here in the USA, Retrolicious proudly offers their designs in sizes XS-4X. The Retrolicious Creative Director, with a background in science, brings awareness to the field and encourages her customers to pursue STEM careers through her designs. Her dedication to providing well-fitting, unique fashions to people of all shapes and sizes is always top priority. You can find everything from space to science-inspired collections among their vast selection of novelty prints. Whether you're looking for a fun print for everyday wear, something work-appropriate, or prefer your outfit a little spooky: Retrolicious has you covered!​
gallery
experience londonedge on instagram