the ultimate creative & commercial fashion trade show
Las Vegas Edge was buzzing and a great success for all who attended, with high orders reported.
Get involved with the worlds' only exclusive lifestyle & youth-culture fashion trade show.​
LondonEdge is a must-visit event. Find out why 20,000+ buyers from over 60 countries travel to visit this show..
Taking place over 2 days, LondonEdge is packed with dynamic catwalk shows & unforgettable entertainment!.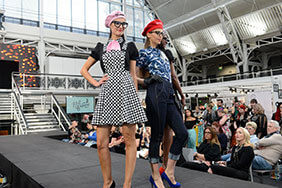 AUTHENTIC
LIFESTYLE
FASHION
TRADE SHOWs
London 1 - 2 september 2019
Las vegas 13 - 14 august 2019
Get Set for Festival Season the LondonEdge Way​
Since festival season is officially here, all eyes are on what's going to be gracing the fields of Glastonbury, Latitude and Creamfields. According to all our favourite brands here at LondonEdge, Summer 2019 is set to be as flamboyant as ever. So, forget Coachella… here's the lowdown on what you NEED to be stocking right now to be riding high in sales right now. Keepers are King! Gone are the days of throwaway fashion. Sustainability is the buzzword on everyone's lips right now, so timeless items that draw the eye will be key to your collections this season. The millennial shopper is looking for garments that will stand the test of time. Statement pieces with longevity are where you're going to get your sales wins so look for brands who are creating beautiful garments that stand out from the crowd. There are many trends that will be evergreen for years to come that will also be staples in your customers wardrobes. Sequins or all things shiny are always going to be a 'thing' for magpies at festivals, AW and a go to for office Christmas parties. Brands that totally have your back for this are Gatsby Lady, Sparkl Fairy Couture, Get Crooked, IVY Berlin and J. Valentine Inc.
Sequins, Neons, Brights & More …​
So, we've had our ear to the ground this week and we've got some more trends for Summer 2019 that you really need to be jumping on when you're stocking up your collections. What is going to be maximising your sales this season? Let's hope that the sun comes out again… but even so, here's what you need to be looking for from your brands to boost your business. SequinsSince when has there not been a lot of love for sequins? Sequins have always been a 'thing' but this season they're so dazzling that you simply can't ignore them! Offered up in endless carnations, this season look for the more gently beaded style. The ultimate garments for a day to evening look, or even just being hip at a festival, bring on the glitz and sparkle all summer. Brands: Gatsby Lady, Neva Nude, Unique Vintage, PS Wholesale, Konane … Shoulders We love a shoulder and we know that bold shoulders have been around for a while, but they've transformed this season from the padded numbers that we know and love to something a lot puffier. Now pleated at the shoulder and gathered by the elastic, working the square neckline on feminine shapes, let's hope the weather brightens-up to show them off in all their glory or it could prove difficult to put on a jacket! Brands: The Seamstress of Bloomsbury, Collectif, Unique Vintage, Love Khaos …
Stock the key current trends with LondonEdge​
OMG, we're in June! Where is 2019 going? Now that summer is here it welcomes a wealth of trends that you should be embracing to optimise your business this season. Here at LondonEdge, we keep our ear to the ground for the latest trends to allow our buyers and independent retailers to ensure that their latest collections are spot on. We make it our business to know what consumers will be looking for this season so that we can help you to attract more sales. So, what's scorching this summer? Take a look! Hip, modern and freePicture escapism meets boho and you have this season's festival friendly trend. Keeping it long, fluid and textured, opt for warm or bright shades and clashing prints. Jewellery is statement with crocheted and raffia accessories and cover-ups to match. Think souvenirs from trips to Ibiza, Joshua Tree or India – keep it fun and free. This is definitely a look to get creative with. We're loving geometric prints, scarf dresses, artisan knits and fringing right now so go wild. Check out brands such as J. Valentine, Get Crooked, Kennedy Designs, Ivy Berlin, Love Khaos Designs, Sparkl, Konane Indyanna and Koi Footwear.
gallery
experience londonedge on instagram