the ultimate creative & commercial fashion trade show
Want to expand your business and reach an untapped market in the USA? Then our new show is just for you!
Be part of the planets only exclusive sub-culture and youth-culture fashion trade show.​
LondonEdge is a must visit event. Find out why buyers from all over the world consistently return year after year.
Spread across two days, LondonEdge has a loaded schedule of cat-walk shows and entertainment.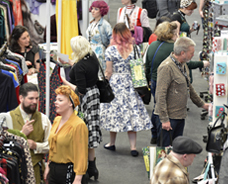 AUTHENTIC
LIFESTYLE
FASHION
TRADE SHOWs
Las Vegas 14 - 15 August 2018
London 2 - 3 September 2018
LITTLE PIG JEWELLERY DESIGN
It's no secret that we love accessories. In February 2018 we fell in love with Little Pig Jewellery Design. Taking their place at LondonEdge Islington in our Makers and Designers gallery for the second season running, Little Pig Jewellery Design make and design quirky, fun and handmade Perspex acrylic and wooden jewellery that is as unique as you. Founded in 2014 and based in beautiful Derbyshire, LPJD take inspiration from day to day life, things that make them smile and the team are obsessed with all things kitsch and fun. Trained in silversmithing and laser-cutting, the team make everything by their own fair trotters. Their super-cute name is even custom-made and originates from a nickname given by a young family member and it has just kind of stuck! With so many cute and colourful options to choose from, never has there been a more Instagram friendly jewellery brand to grace our Makers and Designers gallery. Whatsmore, if you don't find what you're looking for, they'll create a bespoke design especially for you! They LOVE a custom order… anything is possible!​
Introducing A Classic Paradise, the ultimate reproduction shopping experience for your customer. This family-owned tropical fashion boutique brand is ready to rock the runway of LondonEdge Las Vegas 2018. Featuring a wide range of apparel for women and men, their stunning range is inspired by travel and fashion. Whether you're jet-setting across the globe, road tripping from coast to coast, or enjoying a staycation at home A Classic Paradise have the perfect collection for you. Offering a wide variety of clothing and accessories with sizes ranging from petite to plus size and everything in between, this brand seriously has all of your buying needs covered. Putting great thought into creating unique collections that marry the classic looks of Vintage reproduction and the fun styles of today's hottest trends, each collection is inspired by a specific destination, traveling experience, or even just the essence of vacation. The results are just stunning!
Further retro brands added to line-up for LondonEdge Las Vegas There's just over 2 months to go until LondonEdge bursts into the Flamingo Hotel and Casino, Las Vegas from 14th-15th August 2018 for the ultimate alternative fashion and youth subculture celebration on the planet. So let's not waste any time as TeamEdge unveil four more super sexy brands which will be showcasing at the only fashion mecca on the planet to celebrate the weird and downright gorgeous!
gallery
experience londonedge on instagram