the ultimate creative & commercial fashion trade show
LondonEdge Las Vegas was buzzing and a great success for all who attended, with high orders reported.
Be part of the planets only exclusive sub-culture and youth-culture fashion trade show.​
LondonEdge is a must visit event. Find out why buyers from all over the world consistently return year after year.
Spread across two days, LondonEdge has a loaded schedule of cat-walk shows and entertainment.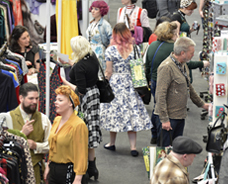 AUTHENTIC
LIFESTYLE
FASHION
TRADE SHOWs
London 27 - 28 january 2019
Las vegas 5 - 6 february 2019
Created out of one girl's love for vintage clothing, UniqueVintage.com is here to serve like-minded retro and vintage-inspired fashion fiends. But this haven of retro delights didn't spring up overnight...Founder Katie Echeverry would spend her weekdays working as a pharmaceutical sales rep and her weekends trawling flea markets looking for vintage dresses to post on her online shop just for fun. Since true vintage items are not an easy find, on a whim Katie created some vintage-inspired dresses and before she could say retro-tastic. While her store, Unique Vintage, carries many fabulous retro designers, Katie had her own retro-inspired vision, this was the conception of the Unique Vintage brand. Including everything from gorgeous floral chiffon gowns straight out of "Mad Men" garden parties to retro Hollywood starlet inspired swimsuits to black wiggle dresses with applique details that Audrey Hepburn herself would fawn over.From pin up styles, vintage 1920s reproduction fashions, and stunning retro swimsuits, unique Vintage have got every vintage taste covered! If you're looking for reproduction vintage pushing the barriers and introducing new licenced products, including the likes of Harry Potter and Barbie, Unique Vintage is for you. ​
Nickat Handmade Jewellery​
We are thrilled to be welcoming back the amazing Nickat Handmade Jewellery for SS19. With over four years of in the making, founder Nicola-Kathryn utilised her experience from sister business Catkin Boutique and created her own unique pieces to sell under her own brand. With a love of plastic and resin, she was looking to turn her visions into wearable, artistic pieces, perfectly shaped by laser cutters with smooth glossy surfaces. Realising that her designs were taking on a whole new life of their own and didn't quite fit in with the Catkin Boutique hand drawn designs, Nickat was born. Inspired by a love of laser, vintage and graphic design, you can expect quirky, style focussed and statement jewellery that is iconic to the brand image. Linking her businesses by name, if not image, Nickat was formed by a combination of founder Nicola Kathryn's name and is also an anagram of her first business, Catkin. Offering smooth lines and beautiful designs, Nickat are a must-see for festival and youth fashion jewellery. ​
J. Valentine Inc. Book Las Vegas & London 2019!​
J. Valentine Inc. confirms Las Vegas show for another season & adds London too!Returning for a second season to LondonEdge Las Vegas is J. Valentine Inc. Founded back in 1994 out of their family home, the company has been a labour of love since the day of its conception. With high quality products and an ethos that puts business first, it's no wonder that the brand has become a staple in the alternative and festival fashion industry. And so, a fashion powerhouse was born. Initially all garments were designed and hand-sewn by J. Valentine, who was at the time a single mother of two, reading every fashion manual she could lay her hands on. In the beginning her designs were sold to friends and grew the business from there. Word of mouth meant that the brand soon reached the retail of swim boutiques and dance clubs. 24 years have passed since then and J. Valentine Inc. has become the 'little company that could' and is now one of the most sought after alternative brands worldwide and it continues to grow. For a company where quality is king, they employ this philosophy throughout their business model without sacrificing their original values to compete in the modern marketplace. With a list of credentials, rivalled by very few, J. Valentine Inc. have appeared in the likes of Austen Powers: The Spy Who Shagged me, Grown Ups, The Sopranos, Sex and the City, The Girls Next Door, My Super Sweet Sixteen, Married to Rock and we also provided the wardrobe for the movie Dollface. J. Valentine has also been worn by such celebrities as Nicki Minaj, Miley Cyrus, Kendall Jenner, Snooki, Brooke Burke Charvet, and Holly Madison. J. Valentine is a company built on quality, service, downright good business and just having a whole lot of fun. That's J. Valentine. They can't wait to see you at the show! ​
gallery
experience londonedge on instagram