the ultimate creative & commercial fashion trade show
Want to expand your business and reach an untapped market in the USA? Then our new show is just for you!
Be part of the planets only exclusive sub-culture and youth-culture fashion trade show.​
LondonEdge is a must visit event. Find out why buyers from all over the world consistently return year after year.
Spread across two days, LondonEdge has a loaded schedule of cat-walk shows and entertainment.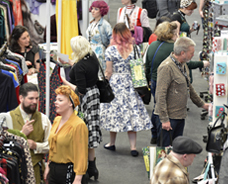 AUTHENTIC
LIFESTYLE
FASHION
TRADE SHOWs
Las Vegas 14 - 15 August 2018
London 2 - 3 September 2018
Further retro brands added to line-up for LondonEdge Las Vegas There's just over 2 months to go until LondonEdge bursts into the Flamingo Hotel and Casino, Las Vegas from 14th-15th August 2018 for the ultimate alternative fashion and youth subculture celebration on the planet. So let's not waste any time as TeamEdge unveil four more super sexy brands which will be showcasing at the only fashion mecca on the planet to celebrate the weird and downright gorgeous!
Going Massively Vintage in Vegas - LondonEdge reveals an early sneak peak into retro brand at Las Vegas 2018 There's less than 3 months to go until LondonEdge storms Las Vegas! Running from 14th-15th August 2018 at the Flamingo Hotel and Casino, Las Vegas, the alternative fashion mecca that packs a punch will be filled with the same thrills and spills that we've come to know and love in London. There's no denying that Team Edge loves the retro vibe. Here's an early peak at some of the awesome retro brands that will be ruling the day at the very first LondonEdge show in the desert! There are so many more!!!!!!
Extreme Largeness have exhibited at LondonEdge FOR-E-VA! If you don't already know they're a Manchester based jewellery & accessories company who have been doing their thing for 10+ years. They design, source and manufacture high quality jewellery and, if you venture onto their website or into their store, you'll be faced with a veritable mountain of choice and a feast of the cutest, on-trend, quality pieces you could wish to chose from. The range is vast and reflects everything pop & sub culture including gothic, punk, rockabilly, vintage, art and music to name but a few. Extreme Largeness not only pride themselves on top notch customer service but also being able to offer something for everyone. Consequently they make sure that new designs are continually released to keep up with current movements, trends and movements. You'll can grab a glimpse of some of their newest and cutest pins, patches & stuff right here. Extreme Largeness exhibit at LondonEdge every season where they release their newest creations. Come along this season where you can meet up and experience the joy between 2nd & 3rd September on stand number VG35.
gallery
experience londonedge on instagram