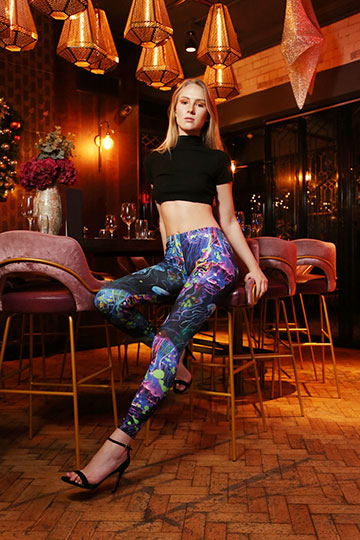 London: February & september 2021
Business Design Centre, London, N1
Kukubird is situated firmly at the centre of the Leggings Universe! A go-to brand for exercise, festival, streetwear & athleisure retailers, we had a chat with them to find out what makes this versatile brand tick.
Q: When & where did the Kukubird brand original come to life?
It really came to life when we opened our Manchester studios! Our design team worked like bees to create fun and unique collections and this shaped our brand how it is today.
Q: What led to the creation of this exciting fashion business?
Kukubird begun 8 years ago in Manchester. The owner wanted to fill a niche in the market for colourful crazy leggings. The blank canvas of a legging has so much scope for all sorts of designs. Because of this, Kukubird Creative Studio is able to reach many wholesale clients in the market, from street style to fancy dress!
Q: How would you describe Kukubird, the brand?
Colourful, crazy, youthful, fun, unique
Q: How do your design team come up with new designs and where do they get their inspiration?
We look at future trends in fashion, lifestyle and even internet culture!
Q: What we can expect from your new collection. Can you give buyers at Londonedge February 2020 an insight?
An electric mix of moody neons with athleisure shapes such as cycling shorts and sports leggings.
Q: Where do you see Kukubird 5 years from now?
We are currently smashing the B2B market! However in the next 5 years, as Kukubird grows, Kukubird we will be working on our own B2C brand.
LondonEdge Stand Number: VG59
​