londonedge exhibitor list
september 2018
20th Century Chap
20th Century Clothiers
A
Alchemy
Alchemy Black
Alchemy England 1977
Alchemy Rocks
Alchemy UL13 / UL17
Alpha/Qualishoe
Alternativewear
Anchor & Rose London
Angry Itch
B
Banned
Be Papaia S.L.
Bella Muerte Clothing
Bepapaia
Bettie Page Shoes
Bettie Page Shoes by Ellie Shoes
Blackboard Label
Bodyvibe
Bright & Beautiful
Bubba's Meltys
Bulvarni Wholesalers
Burleska
Burning Rubber UK Limited
Bye Bye Kitty
C
Cash & Elvis
Chaos Brothers
Chemical Black
Chenaski
CHOK
Chronicles Clothing
Collectif
Cosmic
Cupcake Cult
D
Daisy Dapper
Darkside
Dazzle & Jolt
Discodust
Disco Dust London Ltd
Drakula Approved
Drooth Distribution
plan your trip to londonedge
Check out all the travel and hotel information you need for the show
E
EchtEco Glitter Limited
EC Textiles
Ellie Shoes
Elvira Mistress Of The Dark
etNox
Exile Cycles
Extreme Largeness
F
Fatale Cosmetics
Fearless Illustration
Feverfish
Frilly Industries
G
Gas Monkey Garage
Gatsbylady London
Get Crooked
Golden Steampunk
Goodie Two Sleeves
Goosebumps
Go To Hell
GOTHX
Grindstore Wholesale
H
H & R
Heartless
Hearts & Roses London
Heba Clothing
Hell Bunny
Hessar Trading Co Ltd
Hexbomb
Hyraw Clothing
I
Innocent Lifestyle
Inox
INOX
J
Jack Fruit Clothing
Jelly Jolly Shoes
Joe Browns Couture
K
Kennedy
Kidrocks
Killer Panda
Kira Don Jewel
Kitsch Republic
Kreepsville 666
Kustom Kreeps
L
La Veintinueve
Limb
Little Pig Jewellery Design
Loblan
Lola Ramona
Lostwear
Love ur Look London
Loveurlook
Lulu Hun
Luv Bunnys
M
MA PIN-UP CHERRY
MadPax Backpacks
Maz Accessories
Metallimonsters
Miss Candyfloss
MOJO Backpacks
Mooch Clothing/Rock Dolls
Morgana Sin
Music Legs
N
Nevermind
New Rock Shoes
O
Offend My Eyes
Ohh Deer
On The Sunny Side
One Style Ltd
Orange County Choppers
OSX
P
Pamela Mann
Peaky Blinders
Penoze
Pentagramme
Pete Chenaski
Phaze
Plastic Head Music Distribution Ltd
Poizen Industries
Popsoda
Pose Like A Pin Up
Pretty Retro
Pretty Retro
Psi-Phi
Punky Pins
Q
Qualishoe
Quarter Mile
Queen of Darkness
R
Rainbow Tyger
Restless n Wild
Retuned
Revive Eyewear
Ripper Merch / Kreepsville
Rock Dolls / Go To Hell
Rockabella
Rumble 59
Run & Fly
S
Salesone International
Salinas Boys
Sarsparilly
SD Marketing Ltd
Shades of Alchemy
Sharon McKinley Designs
SHEEN Clothing
Sinister
Slyde
Sourpuss Clothing
Spin Doctor
Spital Fields London
Spiral Direct
Steady Clothing
Steelground
Strange Cult
Style Retuned
Sullen Clothing
T
The Free Banana
The House of Foxy
The Original Atelier
The Seamstress of Bloomsbury
The Vault by Alchemy
Toxico
U
UK Apparel
Ultrakult
Unique Vintage
V
Vampira
Victory Parade Collection
Vixxsin
W
Watershed
Y
Yellowstone - Pentagramme
Yru Footwear
Z
Zoe Vine
Our exhibitors are the best designers, producers, manufacturers and purveyors of lifestyle clothing, footwear, accessories and giftware on the planet. Inspired by music, art, history and youth culture, the creativity delivered season after season is second to none. From the bright, fun, floral retro prints, the dark gothic-inspired palette and the bold neon club wear hues to the cloud burst of rainbow and candy floss and the earthy festival-inspired collections, LondonEdge exhibitors will inspire.​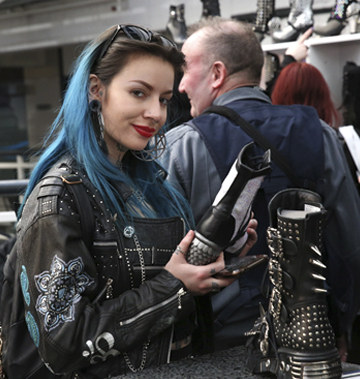 LondonEdge is a must visit event. Find out why buyers from all over the world consistently return year after year.​
If you have any questions or enquiries that can't be found on the website? Please contact our office team who will be glad to help.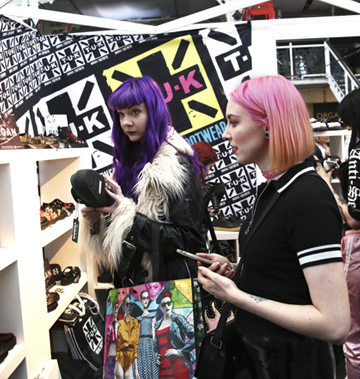 Focused on lifestlye and fashion LondonEdge is the only event
worldwide dedicated to a collective of lifestyle fashion niches.
LondonEdge is a must visit event. Find out why buyers from all over the world consistently return year after year.​

Las Vegas 14 - 15 Aug 2018
London 2 - 3 Sept 2018