londonedge exhibitor lists
1985 LND
20th Century Chap
20th Century Clothiers
A
Alchemy
Alchemy Black
Alchemy England 1977
Alchemy Rocks
Alchemy UL13 / UL17
Alpha/Qualishoe
Alternativewear
Anchor & Rose London
Angry Itch
ANTIBrand
B
Banned
Bearfruit
Be Papaia S.L.
Bella Muerte Clothing
Bepapaia
Bettie Page Menswear
Bettie Page Shoes
Bettie Page Shoes by Ellie Shoes
Bijoux Indiscrets
Blackboard Label
Bodyvibe
Bright & Beautiful
Bubba's Meltys
Bulvarni Wholesalers
Burleska
Burnt Soul
Bye Bye Kitty
C
Cash & Elvis
Chaos Brothers
Chemical Black
Chenaski
CHOK
Chronicles Clothing
Collectif
Cosmic
Cupcake Cult
D
Daisy Dapper
Dancing Days
Darkside
Dazzle & Jolt
Demonia Shoes by Pleaser USA Inc.
Delphi's Delights
Discodust
Disco Dust London Ltd
Dr Faust
Dragon Dreads
Drakula Approved
Drooth Distribution
plan your trip to londonedge
Check out all the travel and hotel information you need for the show
E
Echt
Eco Glitter Limited
EC Textiles
Ellie Shoes
Elvira Mistress Of The Dark
etNox
Extreme Largeness
F
Fatale Cosmetics
Fearless Illustration
Feverfish
Frilly Industries
G
Gatsbylady London
Get Crooked
Gipsy Tights
Glitter Eyes
Golden Steampunk
Goodie Two Sleeves
Goosebumps
Go To Hell
GOTHX
Grinders
Grindstore Wholesale
H
H & R
Hades
Hades Footwear
Haus of Dizzy
Heartless
Hearts & Roses London
Heba Clothing
Hell Bunny
Hessar Trading Co Ltd
Hexbomb
Hyraw Clothing
I
Illegal Behaviour
Incognita at Kind Hearts & Coronets
Indiego Distribution
Innocent Lifestyle

J
Jack Fruit Clothing
Jawbreaker
Joe Browns Couture
K
Kates Clothing
Karmakula
Kennedy
Kevco
Kidrocks
Killer Panda
Kira Don Jewel
Kitsch Republic
Kreepsville 666
Kustom Kreeps
L
La Veintinueve
Limb
Linkkens
Little Pig Jewellery Design
Loblan
Lola Ramona
Lostwear
Love Khaos
Love ur Look London
Loveurlook
Lulu Hun
Luv Bunnys
M
MA PIN-UP CHERRY
MadPax Backpacks
Mary Seline
Maz Accessories
Metallimonsters
Miss Candyfloss
MOJO Backpacks
Monkey Business
Mooch Clothing/Rock Dolls
Morgana Sin
N
Necessary Evil
Neva Nude
Nevermind
New Rock Shoes
Nickat
Nothing Original
O
Offend My Eyes
Ohh Deer
On The Sunny Side
One Direction
OSX
P
Pamela Mann
Peaky Blinders
Penoze
Pentagramme
Pete Chenaski
Phaze
Plastic Head Music Distribution Ltd
Poizen Industries
Popsoda
Pose Like A Pin Up
Pretty Retro
Psi-Phi
PS Wholesale
Punky Pins
Q
Qualishoe
Queen of Darkness
R
Rainbow Tyger
Replay Vintage Eyewear
Restless n Wild
Retuned
Revive Eyewear
Ripper Merch / Kreepsville
Rock Dolls / Go To Hell
Rockabella
Rumble 59
Run & Fly
S
Ssaarangaa
Sakura Designs
Sarsparilly
SD Marketing Ltd
Shades of Alchemy
Sharon McKinley Designs
SHEEN Clothing
Sinister
Slyde
So Rotten
Sourpuss Clothing
Spin Doctor
Spital Fields London
Spiral Direct
Steady Clothing
Steelground
Strange Cult
Style Retuned
Sullen Clothing
T
The Free Banana
The House of Foxy
The Original Atelier
The Seamstress of Bloomsbury
The Vault by Alchemy
Toxico
T.U.K. Shoes
U
UK Apparel
Ultrakult
Unique Vintage
V
Vampira
Victory Parade Collection
Vixxsin
Voodoo Vixen
W
Watershed
Y
Yellowstone - Pentagramme
Yru Footwear
Z
Zoe Vine
Our exhibitors are the best designers, producers, manufacturers and purveyors of lifestyle clothing, footwear, accessories and giftware on the planet. Inspired by music, art, history and youth culture, the creativity delivered season after season is second to none. From the bright, fun, floral retro prints, the dark gothic-inspired palette and the bold neon club wear hues to the cloud burst of rainbow and candy floss and the earthy festival-inspired collections, LondonEdge exhibitors will inspire.​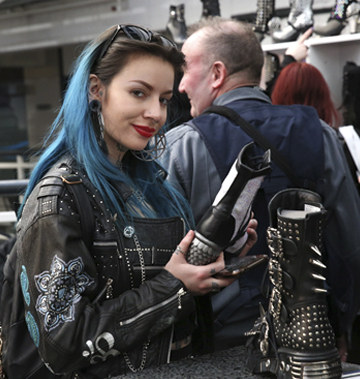 LondonEdge is a must visit event. Find out why buyers from all over the world consistently return year after year.​
If you have any questions or enquiries that can't be found on the website? Please contact our office team who will be glad to help.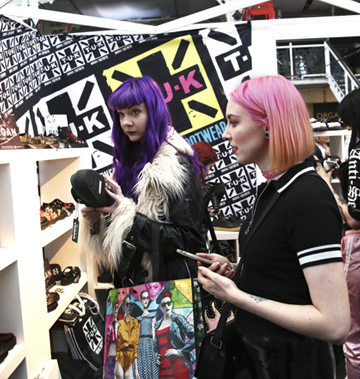 Focused on lifestlye and fashion LondonEdge is the only event
worldwide dedicated to a collective of lifestyle fashion niches.
LondonEdge is a must visit event. Find out why buyers from all over the world consistently return year after year.​
20th Century Chap
A
A Classic Paradise
Ains and Elk
B
Belladonna's Cosmetics
Bettie Page Menswear
Bordello
C
Cinched Tight
Crafty Frida
Crisiswear
D
Demonia
Devious
E
Elvira Mistress Of The Dark
F
Fabstix
Fatale Cosmetics
Folter Clothing
Forplay Inc
Funkplus Inc
Funtasma
G
Get Crooked
Glam Slam
Glamour Bunny
Goosebumps
Grace & Glamour
H
Hades Footwear
Hazmat Designs
Heart of Haute
Hexbomb

I
I am Sin
Insidious Clothing
J
Johnny Suede
J. Valentine
K
Kittees
Kreepsville 666
Kustom Kreeps
L
Lethal Amounts
Love Khaos
Lubov Cosmetics
Lux Muse
M
Manic Panic
Marina Fini
Miss Nouvelle
Morgana Sin
N
Neva Nude
P
Pamela Mann
Pastease
Pashmac
Pin Up Couture
Piston Clothing
Pleaser
Pretty Retro

R
Rat Baby
Rat Fink
Rebel Love Clothing
Red Dolly Swimwear
Retrolicious
Retrospec'd Clothing
Rock Rebel
Rouge & Rogue
S
Scarlett & Jo
Scummy Bears
Sea Dragon Studio
Sheen
Smoking Daisies
Sourpuss Clothing
Steady Clothing
Strange Cult
Sullen Clothing
Sun Records
T
Tailor & Twirl
Tatyana Boutique
The House of Foxy
Too Fast
Tyes by Tara
V
Vampira
Vintage Diva
W
Wax Poetic Clothing
Witch City Wicks
Y
Yru Footwear

Las Vegas 14 - 15 Aug 2018
London 2 - 3 Sept 2018