London based and 'made in England' Heba Clothing, one of our Makers + Designers, was created by its namesake, graduate from the London College of Fashion, Heba Elemara. Celebrating individuality, quirkiness and having fun with fashion, this brand creates on trend and comfortable clothing for the young fashionista! Inspired by 90s fashion, streetwear and keeping it casual, Heba clothing is unique, specialised and made with love, care and attention. A brand that believes in keeping it 'real' for the youthful market, Heba has a signature look that is echoed throughout the collection. Each garment is stand-out, edgy and guaranteed to draw the eye.Appreciated for their core belief in edgy fashion and keeping it British, Heba's ethos and ambition for the future set them apart as a must-visit this season. Visit Heba Clothing in the London Makers & Designers area in September.​
Rouge & Rogue Dark, mysterious and enchanting, Rouge & Rogue's line of eyelashes and accessories are a unique experience. From the sleek black packaging, to the wax seal, to the beautiful product inside, the wearer will be transported into a mystical, ethereal world. Inspired by the dichotomy of light & dark, elements of space and a bit of fantasy thrown in for good measure, each product in the line if reflective of the brand's incredible ethos. Creating lashes for people with graphic style, the brand just love an icon. Anyone who has a bit of edge to their look is where it's at for this brand. So, they would die to see Lady Gaga, Rihanna, or Lupita Nyong'o wearing their products. But for Rouge & Rogue, overall 'life is an adventure' and you never know what's just around the corner. They'd love to one day hit the big time and be stocked in stores and online throughout the world and expand into cosmetics too. This brand has real ambition and the drive to achieve it too, so watch this space. Discover mysterious beauty on booth 426 in the Makers & Designers area of the Las Vegas show. ​
Sea Dragon Studio – The Skin You Were Meant to Dance InSea Dragon Studio is a holographic festival clothing line with accessories for both men & women. Born on the dance floors of Australia's favourite music festivals and now worn at gatherings around the world. Founded by Jesseca Diskobaal, she proudly extols that every piece is designed to make you look as good as you feel and aim to embrace everyone's inner disco ball letting it shine bright! There's certainly no such thing as a muted tone in the Sea Dragon Studio colour palette and the collection is lovingly handmade from a four-way stretch, breathable, wearable Lycra. The pieces on offer range from full bodysuits to two-piece outfits and accessories. Throw on your dancing shoes. Sea Dragon Studio are waiting for you on Booth 301 at LondonEdge Las Vegas.​
Designed by Washington based designer, Heather Stepanik, Red Dolly Swimwear is the work of a creative talent that knows know bounds. Originally graduating in 2004 from The Fashion Institute of Design and Merchandising in Los Angeles, Heather started her career as a bridal seamstress until 2008. The conception of her own swimwear line, Red Dolly, came shortly after and her fashion line has over the years expanded to include baby and girls swimwear. Since then, her vision has become a reality as the brand is continues to grow and spread throughout the world. "As a young girl, I loved making things and was surrounded by creative people. My great grandmother lavishly decorated cakes and created hand-sewn clothing. She was and is my inspiration. I feel so fortunate that I get to live my dream of creating and sharing with others. I want women to feel beautiful, comfortable, and confident in my suits. "— HEATHER XXOO Today, Red Dolly offers vintage inspired swimwear styles in high quality modern fabrics. Regardless of size or shape, you are guaranteed to find a style to fit and look fantastic. With every garment lined at both the top and the bottom, Red Dolly is created with modesty in mind, meaning they always have you covered. Made with the knowledge that no two women are the same, Red Dolly design swimwear to compliment and flatter every body type. Visit them on booth 313 at LondonEdge Las Vegas. ​
Pastease® for your goddess
We're delighted to say that PASTEASE® will be showing at the LondonEdge Las Vegas launch show this August. PASTEASE® is a family owned brand & are hand made in the USA. Imbued with a unique sense of Sexy Fun Freedom™ they bring out the inner-goddess of thousands of women around the world along with the adoration of the men that love them. For over 15 years, PASTEASE® has earned a reputation as the world-premier manufacturer of sexy fun nipple pasties. PASTEASE® Everyday is a reusable silicone pastie that provides a comfortable, easy, fashionable way of living your everyday life. Sexy functional coverage features a secure fit & a liberating feel to ignite the goddess within. PASTEASE® are all about feeling good in the skin your in & now include pads with every pair to help sensitivity and piercings. All Pastease use the finest medical-grade, hypoallergenic, latex free, gluten free, paraben free, dye free, soy free adhesive from 3M Medical. Come visit them on booth 303 at The Flamingo, Las Vegas. PLEASE NOTE: The Sunset Ballroom is on the 3rd Floor Convention space & can be easily reached from the Lobby Elevators, the Spa Elevators & the lobby escalator. Then follow the signs to LondonEdge :).​
Coming to LondonEdge Las Vegas is the ultimate rocker clothing brand, Hazmat Designs. Creating clothing for rockers, metal heads, rebels, drifters, rolling stones, sinners and saints, individuality is king. Whatever your motivation, this brand has something to unleash the real you. Fuelled by caffeine and a mile-long list of musical influences, the brand wants everyone who wears their garments to feel like a Rockstar! Whatever you're into, studs and badges or laces and prints, Hazmat are the go-to brand to bring out your rebellious side! Each item is one of a kind, just like you. With a brand ethos of individuality, let your inner Rockstar run riot and feel a million bucks doing it! Be your badass self and love it… what else is life about? Rock out like there's no tomorrow. ​
londonedge blog
Read the latest news from LondonEdge, exclusive articles from within the fashion industry and social media guru's.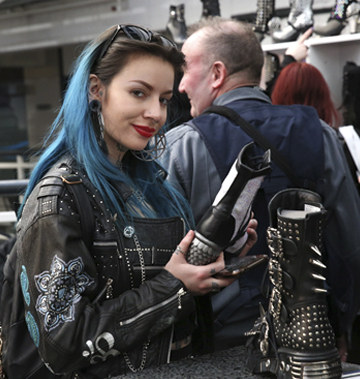 The Paragraph element is a way to create long, uniform sections of text in your design and is suitable for
The Paragraph element is a way to create long, uniform sections of text in your design and is suitable for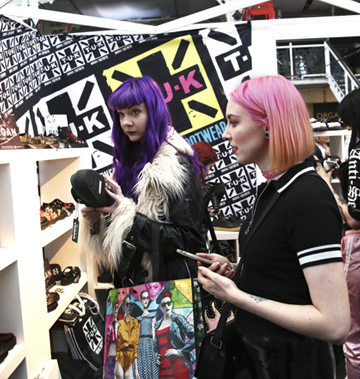 The Paragraph element is a way to create long, uniform sections of text in your design and is suitable for,
The Paragraph element is a way to create long, uniform sections of text in your design and is suitable for

Las Vegas 14 - 15 Aug 2018
London 2 - 3 Sept 2018