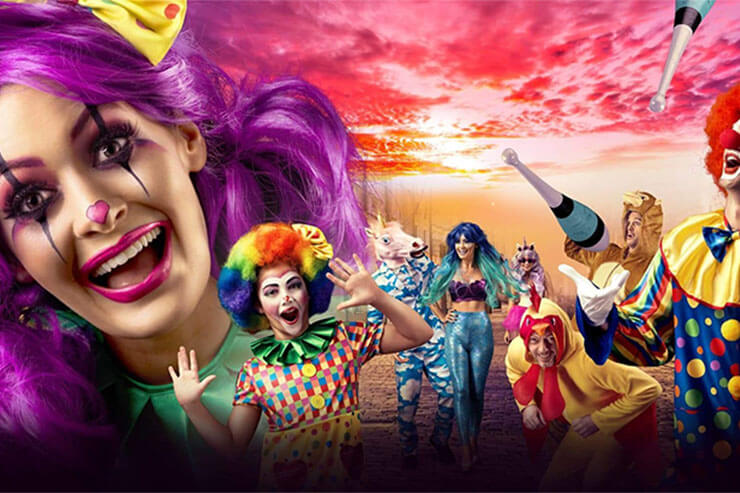 HOT OFF THE PRESS: LondonEdge is pleased to welcome Smiffy's to both the London and Las Vegas shows! Founded in 1894, Smiffys is a family-owned, global organisation with over a century of heritage in fancy dress. The brand will be joining TeamEdge on both sides of the Atlantic with top brands Manic Panic and Fever Wigs. No strangers to the Edge shows, Manic Panic is the go-to alternative and lifestyle fashion hair colour. Providing a cruelty-free range of colour care, semi-permanent and permanent colours in rainbow bright shade, you can guarantee the sales will be rolling in. Created in NYC by Debbie Harry's backing singers Tish and Snooky, the brand has become iconic in the alternative fashion sphere. For those looking for a less permanent makeover, Fever Wigs are a staple. A touch of instant glamour, wearers can get fun and flirty with a pink coloured wig or indulge their inner style vixen with auburn or blonde. Available in a variety of lengths and styles to choose from. With a heat resistance up to 120°C The Fever Collection fashion wig range can styled with tongs or straighteners and even hand washed to re-create a new look again and again.Want to know more? Head to see Smiffy's at our Vegas and London shows. These guys are going to be hot property for SS20. ​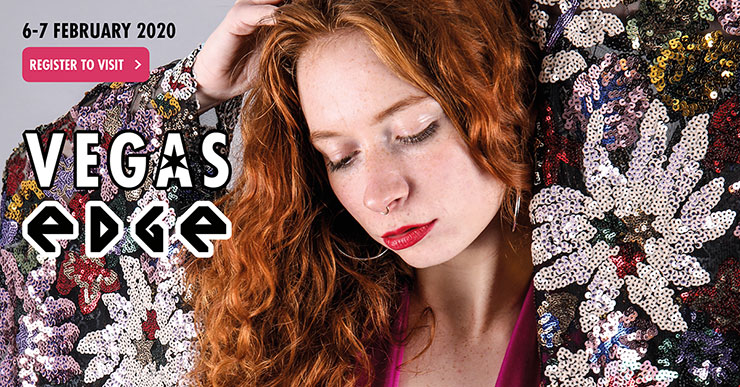 VegasEdge#4 is now (almost) a SELL OUT!​
With Christmas and the new year feeling like an almost distant memory, VegasEdge SS20 is now over 89% full, according to show organisers."A new year means it's time to look forward to a fresh year with new opportunities and VegasEdge is a great place to start," said Carole Hunter, Managing Director. "Don't leave it too late though, as we're now almost wall bound. "The first & only specialist creative culture and lifestyle fashion platform on both sides of the Atlantic will be taking place from 6th-7th February 2020 in Las Vegas' Alexis Park Resort and Hotel. This will be shortly followed by LondonEdge at the Business Design Centre in Islington from 16th-17th February 2020. Both shows are the first port of call for retailers and buyers seeking innovative and eclectic collections in the fashion industry. This season sees the return of many favourite brands including Ellie's Shoes, J. Valentine, Kreepsville 666, Retrolicious, Sourpuss, Tatyanna Boutique, Black Craft Cult, Bettie Page and The Pretty Cult. TeamEdge is also excited to welcome new and returning companies next year including the mighty Hell Bunny, Aanimal, Get Crooked, Bglttz, Flashback & Freedom and UK favourites, Love Her Madly. "One thing is certain," continued Carole, "even whilst the world faces challenges, lifestyle fashion is an evergreen industry. Consumers will always be looking for ways to express & recreate themselves through fashion, make-up & accessories. The styles may not look the same season on season as cultures, movements and lifestyles shift, but this dedicated platform is one which keeps the fires of fashion creativity, freedom and unity burning strong. Our brands are not only inspired but inspiring with many now looking for ways to produce their goods ethically and sustainably. Nothing beats seeing new products first-hand, discussing discounts and negotiating opportunities face-to-face with your business partners, customers and suppliers. Edge is an order writing show. We know how to do business." Buyers can register online at the LondonEdge website whilst companies interested in exhibiting can contact Hayley@londonedge.com or call +44 (0) 116 279 5179. The next LondonEdge UK will run 16th & 17th February 2020 at The Business Design Centre, Islington London N1 with VegasEdge running shortly before on 6th & 7th February 2020 at the Alexis Park Resort & Convention Center, Las Vegas. For more press information please contact: Emma Waterfield at EW Creative on 07709 487844 or email emma@londonedge.com.
Seamstress of Bloomsbury: A Brand with Real History The story began in London in 1939 and England is on the brink of World War II. A young apprentice with little education shows a talent beyond her years. It turned out that she was naturally gifted and as she honed her skills as a seamstress, her future was written before her. As time went by she went on to sew beautiful dresses for the aristocratic families who inhabited the mansions around Bloomsbury Square. As she sewed those stunning frocks, she dreamt about having a sewing room of her own one day. She also dreamt that she'd meet a soldier, marry, have a family of her own & create beautiful clothes for them too. Unfortunately, her dreams never became a reality. Even so, because her skills and talents were famous and admired by many, her work was sought by many aristocratic families and royalty from around the world. Today, a brand has been created in her name by those who have known and worked with the great Miss Lilian Wells. Honouring the tradition of her skill, Seamstress of Bloomsbury was created to revive her original 1940's patterns and designs to share with the world. This season reinvents feminine styles of classic polka dots and rouge noir styles in a way that only the seamstress herself would know how. LondonEdge Stand Number: M233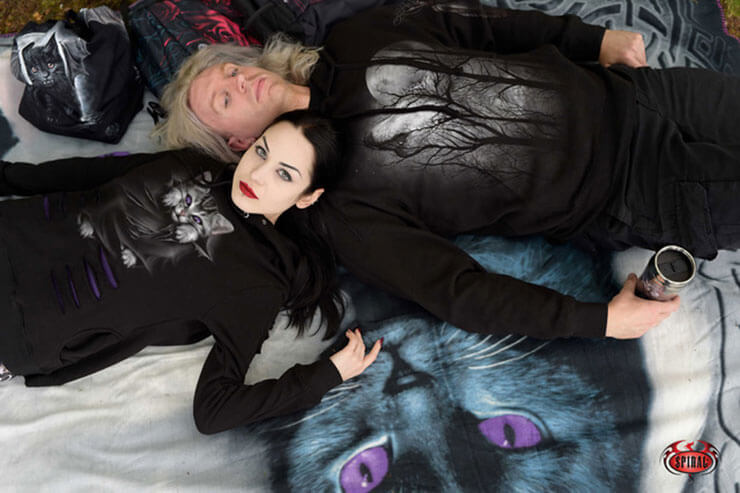 A NEW TAKE ON HORROR, HUMOUR & STILL HELLA ROCK N ROLL Delivered worldwide by Spiral Direct Exhibiting at LondonEdge since show 1, Spiral Direct has been our most loyal & committed exhibiting partner since 2000. The success of this brand has continued season on season and year on year & LondonEdge reached out to catch up. Q: When & where did Spiral Direct first blast into the Alternative Fashion World?A: Spiral Direct have been at the forefront of the alternative fashion scene for almost three decades now. Q: What led to the creation of this global fashion business?A: Starting off as a licensing company, we then started to see an untapped niche in the market that was being heavily underrepresented. Our love for the subject matter gave us the creative spark to start something unique that our customers felt connected to as much as we did. Q: What and who would you say sits at the 'heart' of the success of Spiral?A: Our customers. They are the true heart of the brand, they are why we continue to be so successful in an increasingly diversifying fashion genre. Our new designs get made based upon feedback from people that wear our clothing on a day to day basis and that is what goes back out to the fans of what we do. Q: How do your design team come up with new products and where do they get their inspiration?A: Inspiration can come from everything from a funny saying we have heard in conversation through to historical folklore and even modern trends that we feel reflect our current message. The best art imitates life. Q: We'd love to know what we can expect from your new collection. Can you give us an insight?A: We are unleashing a new range of accessories this year for fans of both traditional Spiral and modern fashionistas. Our latest designs have taken on a more progressively modern take on horror and humour that our existing customers and newly introduced customers should truly love. Q: Given the global success of Spiral Direct since 1990, how many countries do you ship to?A: We ship worldwide, by various delivery services. Pretty much every method except for by Owl, but since stocking our Harry Potter range we are seriously looking into that too! LondonEdge Stand Number: M198​
INTRODUCING MISS ELSE VINTAGE Plus Sized Womenswear Inspired by the Good Old Days. A welcome new exhibitor to LondonEdge February 2020 comes Miss Else Vintage. Offering Vintage Style clothing for Plus Size Women they are an Austrian based design business with ranges offered from UK size 14-24. Miss Else is created for lovers of fashion from the old days. Particularly those with a love of the 30s to 50s era clothing. The collections are inspired by fashions of days gone by. 'Noblesse Oblige' is a sophisticated nod to the late 30s and early 40s while 'Sometimes a Bee Can Move an Ox' pays homage to leading ladies of the studio era Hedy Lamarr, Katherine Hepburn and Lucille Ball. The clue is in the name of the collection, which is based on a quote from the iconic 'Samson and Delilah'. Each garment is beautifully created using true Austrian hand-crafted and made in Vienna. Retaining an ethical practice in the making of their collections is important to Miss Else, and each piece is produced by a social economic enterprise for women. Only the finest threads are used in the creation of a Miss Else Vintage piece and where possible, they are finished with antique buttons or true vintage lace for an authentic touch. LondonEdge Stand: VG28
Kukubird is situated firmly at the centre of the Leggings Universe! A go-to brand for exercise, festival, streetwear & athleisure retailers, we had a chat with them to find out what makes this versatile brand tick. Q: When & where did the Kukubird brand original come to life? It really came to life when we opened our Manchester studios! Our design team worked like bees to create fun and unique collections and this shaped our brand how it is today. Q: What led to the creation of this exciting fashion business? Kukubird begun 8 years ago in Manchester. The owner wanted to fill a niche in the market for colourful crazy leggings. The blank canvas of a legging has so much scope for all sorts of designs. Because of this, Kukubird Creative Studio is able to reach many wholesale clients in the market, from street style to fancy dress! Q: How would you describe Kukubird, the brand?Colourful, crazy, youthful, fun, unique Q: How do your design team come up with new designs and where do they get their inspiration?We look at future trends in fashion, lifestyle and even internet culture! Q: What we can expect from your new collection. Can you give buyers at Londonedge February 2020 an insight?An electric mix of moody neons with athleisure shapes such as cycling shorts and sports leggings. Q: Where do you see Kukubird 5 years from now?We are currently smashing the B2B market! However in the next 5 years, as Kukubird grows, Kukubird we will be working on our own B2C brand. LondonEdge Stand Number: VG59 ​
londonedge blog
Read the latest news from LondonEdge, exclusive articles from within the fashion industry and social media guru's.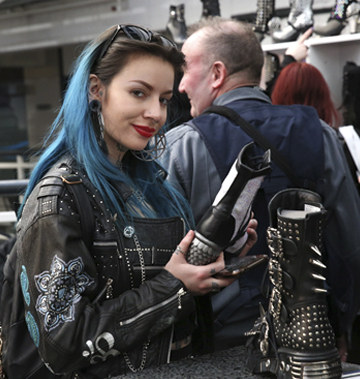 Londonedge has a proud tradition of presenting the lifestyle market with some of the very best brands available at every event. ​
Read the latest news from LondonEdge, exclusive articles from within the fashion industry and social media guru's.​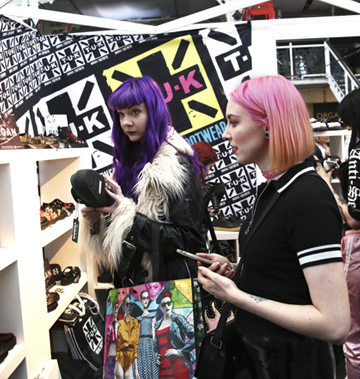 Londonedge & Vegas Edge are easy to find with nearby hotels galore. Plan your trip in advance of the show by gathering information now.​
By receiving your visitor badge in advance of the show, your entry will be quick & easy. Register here for LondonEdge & Vegas Edge.​

London: February & september 2021
Business Design Centre, London, N1