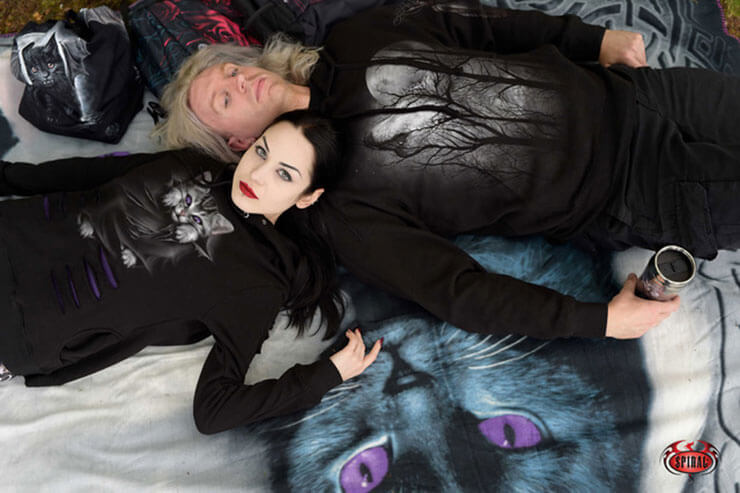 London: February & september 2021
Business Design Centre, London, N1
A NEW TAKE ON HORROR, HUMOUR & STILL HELLA ROCK N ROLL
Delivered worldwide by Spiral Direct
Exhibiting at LondonEdge since show 1, Spiral Direct has been our most loyal & committed exhibiting partner since 2000. The success of this brand has continued season on season and year on year & LondonEdge reached out to catch up.
Q: When & where did Spiral Direct first blast into the Alternative Fashion World?
A: Spiral Direct have been at the forefront of the alternative fashion scene for almost three decades now.
Q: What led to the creation of this global fashion business?
A: Starting off as a licensing company, we then started to see an untapped niche in the market that was being heavily underrepresented. Our love for the subject matter gave us the creative spark to start something unique that our customers felt connected to as much as we did.
Q: What and who would you say sits at the 'heart' of the success of Spiral?
A: Our customers. They are the true heart of the brand, they are why we continue to be so successful in an increasingly diversifying fashion genre. Our new designs get made based upon feedback from people that wear our clothing on a day to day basis and that is what goes back out to the fans of what we do.
Q: How do your design team come up with new products and where do they get their inspiration?
A: Inspiration can come from everything from a funny saying we have heard in conversation through to historical folklore and even modern trends that we feel reflect our current message. The best art imitates life.
Q: We'd love to know what we can expect from your new collection. Can you give us an insight?
A: We are unleashing a new range of accessories this year for fans of both traditional Spiral and modern fashionistas. Our latest designs have taken on a more progressively modern take on horror and humour that our existing customers and newly introduced customers should truly love.
Q: Given the global success of Spiral Direct since 1990, how many countries do you ship to?
A: We ship worldwide, by various delivery services. Pretty much every method except for by Owl, but since stocking our Harry Potter range we are seriously looking into that too!
LondonEdge Stand Number: M198​