buyers love us!
Londonedge is an experience. Fun but built for business. If you need any further inspiration to visit, please read what some buyers have to say about their success at LondonEdge.
"Visiting LondonEdge Show has become part of our 'must do' things each year .. Not only does it give us a chance to see what new and exciting brands we would like to add to our range, but is a fantastic chance to meet up with existing suppliers, bloggers and influencers. So, it's a great opportunity for us to network on all levels with a really wide range of business connections.."
"We had a good show! As always! LondonEdge is THE place to go for us, being a retro fashion retail & web shop. This is where we meet most of the brands we sell, and we love the fact that it is not too large. LondonEdge is a good vibe – good times trade fair. Thank you!"​
"LondonEdge for me was so worthwhile. I met some lovely people and was inspired once again at the creativity out there in the reproduction vintage world. Made some good contacts and ordered with new companies for my shop Vintage Quine. Definitely worth the trip down from Scotland!"
"I attend many trade shows throughout the year, however I find that London Edge is the most relevant in terms of sourcing product which appeals to our customer. It's a little more niche than some of the larger shows, and I have found many suppliers there in the past. I'll return again next time".
rock & romance, uk
charlene & Mike
rods 'n' roll
placido ruiz
"We came from Spain to finally meet our suppliers and make new ones. We loved the fact that everyone loved their job, in a tradeshow where everything is accessible, from the catwalk shows right down to meeting our favourite bloggers and influencers. The organisers are lovely, and as for the afterparty….what can we say? A smashing weekend! Can't wait to repeat. Much love and sparkles."
​
beyond retro
holly oehiert
shock store, sweden
linn ekman
"It was a good show! Love the venue, good area and it is easy to find a hotel and to go for lunch etc. It is always great to see your suppliers in real life and have a chat. It's very helpful for us to meet our current suppliers as well and to see their collections in real life …We (also) ordered from some new companies so that is nice!"
​
butterfly ball
corinne price
"I had a very productive experience and met not only existing wholesalers but also new. The best show yet!! I also think you should promote more artisans into the show as I feel by talking to them they had found their niche market."
rocknrolla emporium
vick & wend
"We had a really great time at the show and found some fab new suppliers. It was our first visit to LondonEdge and it certainly did not disappoint! All in all a very friendly, productive, fun and exciting show. We can't wait to do it all over again in September!"
​
A brand new, dedicated, B2B digital platform connecting lifestyle fashion suppliers directly with lifestyle fashion buyers.​​
A creative gathering of 200+ lifestyle collections from round the globe.
Keep up to date with all the latest exhibitors attending the show.
Read the latest news about LondonEdge and hot topics from within the fashion industry​ and social media influencers.​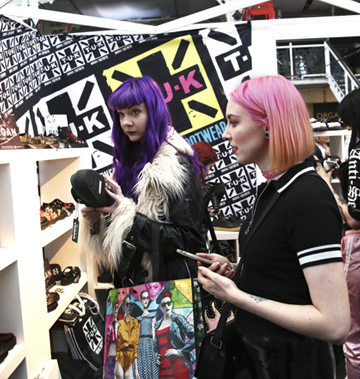 Information on public transport options to the Business Design Centre in London's fashionable, cafe-culture capital, Islington.​​
Get onboard with the planets' only youth and sub-culture lifestyle fashion trade events, LondonEdge.​​
A not to miss event!

London: February & september 2021
Business Design Centre, London, N1