VegasEdge#4 is now (almost) a SELL OUT!​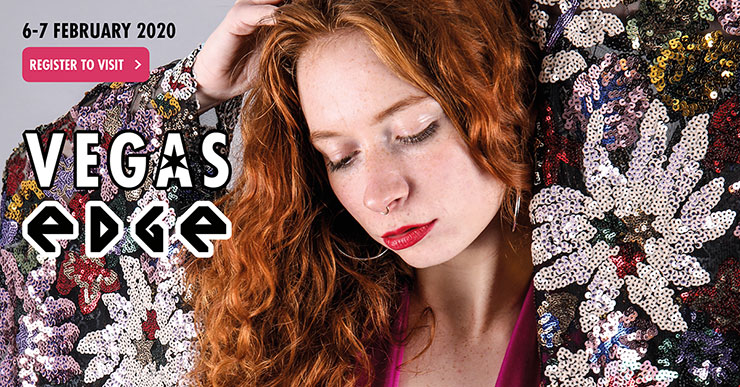 London: February & september 2021
Business Design Centre, London, N1
With Christmas and the new year feeling like an almost distant memory, VegasEdge SS20 is now over 89% full, according to show organisers."A new year means it's time to look forward to a fresh year with new opportunities and VegasEdge is a great place to start," said Carole Hunter, Managing Director. "Don't leave it too late though, as we're now almost wall bound.
"The first & only specialist creative culture and lifestyle fashion platform on both sides of the Atlantic will be taking place from 6th-7th February 2020 in Las Vegas' Alexis Park Resort and Hotel. This will be shortly followed by LondonEdge at the Business Design Centre in Islington from 16th-17th February 2020. Both shows are the first port of call for retailers and buyers seeking innovative and eclectic collections in the fashion industry. This season sees the return of many favourite brands including Ellie's Shoes, J. Valentine, Kreepsville 666, Retrolicious, Sourpuss, Tatyanna Boutique, Black Craft Cult, Bettie Page and The Pretty Cult.
TeamEdge is also excited to welcome new and returning companies next year including the mighty Hell Bunny, Aanimal, Get Crooked, Bglttz, Flashback & Freedom and UK favourites, Love Her Madly.
"One thing is certain," continued Carole, "even whilst the world faces challenges, lifestyle fashion is an evergreen industry. Consumers will always be looking for ways to express & recreate themselves through fashion, make-up & accessories. The styles may not look the same season on season as cultures, movements and lifestyles shift, but this dedicated platform is one which keeps the fires of fashion creativity, freedom and unity burning strong. Our brands are not only inspired but inspiring with many now looking for ways to produce their goods ethically and sustainably.
Nothing beats seeing new products first-hand, discussing discounts and negotiating opportunities face-to-face with your business partners, customers and suppliers. Edge is an order writing show. We know how to do business."
Buyers can register online at the LondonEdge website whilst companies interested in exhibiting can contact Hayley@londonedge.com or call +44 (0) 116 279 5179.
The next LondonEdge UK will run 16th & 17th February 2020 at The Business Design Centre, Islington London N1 with VegasEdge running shortly before on 6th & 7th February 2020 at the Alexis Park Resort & Convention Center, Las Vegas.
For more press information please contact: Emma Waterfield at EW Creative on 07709 487844 or email emma@londonedge.com.